The South Carolina attorney general responsible for leading the prosecution's case against Alex Murdaugh said Friday he believes the disbarred lawyer's decision to take the stand in his double-murder trial was "fatal for him." 
Alan Wilson made the remark to NBC's "Today" Show as Murdaugh is to be sentenced Friday after a jury found him guilty Thursday of gunning down his wife and son. The 54-year-old faces a minimum of 30 years and a maximum of life in prison. 
"I think Alex Murdaugh was our biggest piece of evidence when he took the stand. I think that was fatal for him ultimately," Wilson said following the conclusion of the six-week trial. 
"He had been lying his way out of things for so long that he had forgotten what it was like to tell the truth," Wilson told NBC. 
ALEX MURDAUGH CONVICTED OF MURDER IN FATAL SHOOTING OF WIFE AND SON 
"When he took the stand, that was basically in my opinion, Alex had made a career – a very successful career – of giving closing arguments to juries and winning major cases and making a lot of money. This was his closing argument to the jury," Wilson also said. "I believe in my mind that he believed that he could talk his way out of this. And at the end of the day I think that is what sealed it for him." 
During a grueling cross-examination that spanned two days, prosecutors had grilled an increasingly fatigued Murdaugh on his inconsistent statements relating to the murders of Maggie and Paul Murdaugh in June 2021. 
The jury on Thursday found Murdaugh guilty of two counts each of murder and possession of a weapon during the commission of a violent crime. 
ALEX MURDAUGH'S PROMPT GUILTY VERDICT CALLED 'STUNNING'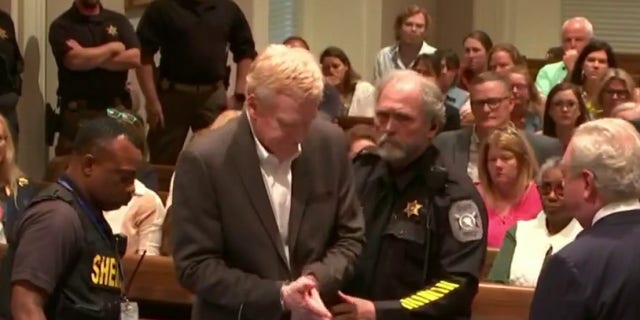 The disbarred attorney carried out the double slayings to stave off a devastating financial reckoning, Assistant Attorney General Creighton Waters had told jurors during the trial. 
Murdaugh, the wealthy scion of a once powerful legal dynasty, has admitted he's a drug addict and thief who allegedly swindled his law firm and clients out of nearly $9 million. 
CLICK HERE TO GET THE FOX NEWS APP 
"You have a family legacy that is over 100 years old. You have a man that has lived a lifestyle of privilege in a world that many of us will never know. And all of that was going to end eventually and he was getting desperate," Wilson told NBC on Friday. "He was in survivor mode at this point." 
"I believe he probably loved them in his own way but he loved himself more and killing them was the price he was willing to pay in order to preserve his way of life," Wilson added. 
Fox News' Rebecca Rosenberg contributed to this report.