Another dead whale was found early Friday on the shores of New York's Rockaway Beach. 
The New York City Department of Parks and Recreation said that the deceased marine mammal was found around Beach 29th street.
The 25-foot-long adult female minke whale was located just before 9 a.m. EST, and had several broken bones and cut wounds across its body, according to the National Oceanic and Atmospheric Administration. 
The agency said the injuries appear to have occurred prior to death and that there was additional evidence of blunt force trauma found by biologists.
NJ CONGRESSMAN AIMS TO FORCE BIDEN ADMIN TO INVESTIGATE WHETHER WIND PROJECTS ARE KILLING WHALES
NOAA also noted that samples would be sent out for further analysis, but that preliminary evidence indicates the whale died from a vessel strike. 
There is an ongoing investigation into the increase in minke whale deaths along the Atlantic coast since 2017. 
MYSTERY OVER WHALE DEATHS SPARKS ALARM: WE NEED TO 'PAUSE AND INVESTIGATE'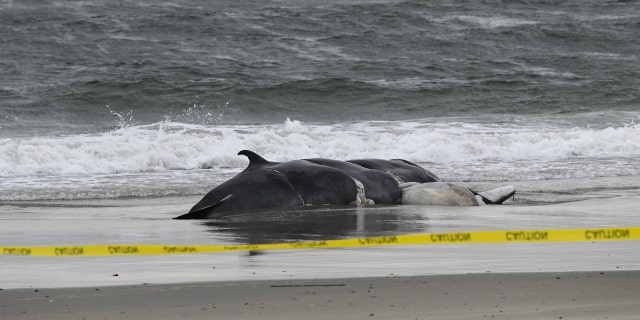 This is the fifth large whale to strand in New York since Dec. 1 and the 23rd large whale to strand on the East Coast since that date. 
Furthermore, this is the 12th whale in the New York-New Jersey area to strand since Dec. 1. 
According to Gothamist, the Port of New York and New Jersey became the busiest shipping port in the country late last year.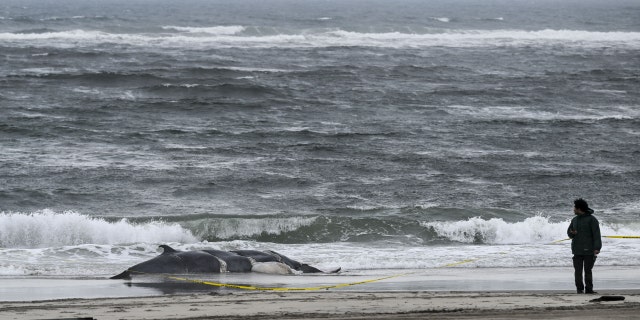 CLICK HERE TO GET THE FOX NEWS APP 
NOAA asks that the public maintain a safe distance from the whale and that all stranded marine mammals and sea turtles should be reported to NOAA's marine mammal and sea turtle stranding hotline at 866-755-6622.