President Biden is forsaking East Palestine, Ohio in deference to the Mideast land of its namesake, former Reagan Justice Department official and "Life, Liberty & Levin" host Mark Levin said Monday.
Levin called the dynamic "grotesque," citing Biden's reported hefty taxpayer-funded aid to the Palestinians.
He said the appropriations be considered a violation of the Taylor Force Act of 2018 – a Trump-era law prohibiting U.S. aid to the Palestinian Authority contingent on its engagement in 'Martyrs Fund' stipends.
"It's a funny thing. Biden is spending hundreds of millions of dollars on the Palestinians in the Middle East who are killing Jews in violation of the Taylor [Force] Act," he said. 
"He's defying the Taylor [Force] Act, but he won't spend one penny or one minute of time on East Palestine, Ohio."
A federal lawsuit recently filed by Rep. Ronny Jackson, R-Texas and terror victims alleges Biden is sending millions without verifying the Palestinian Authority is not funding terrorism.
Biden also has yet to visit the working-class community on the Pennsylvania border, which has been wracked by a Norfolk Southern derailment and ensuing vinyl oxide burnoff some say has crippled the ecosystem and potentially the long-term economic outlook for the town.
ERIN BROCKOVICH TORCHES EAST PALESTINE OHIO DISASTER RESPONSE
Former President Trump and ex-New York City Mayor Rudolph Giuliani met separately with Mayor Trent Conaway, while the real estate mogul also shipped in bottled water and cleaning supplies. 
Biden's USDOT secretary, Pete Buttigieg, visited the area weeks after the initial incident, toured the site and met with Conaway reportedly moments after Giuliani's sit-down concluded.
On "Hannity," Levin said Biden's level of concern for East Palestine may be predicated on the idea that the community and the incident itself defies liberal Democratic doctrine:
"Here's the unvarnished truth. It violates their narrative. [East] Palestine, Ohio is mostly White. It's mostly Republican. It's mostly middle-class to lower- middle-class. You don't see any White privilege there whatsoever. The train tracks go right through this city. So there wasn't environmental injustice there, I guess," he said.
GABBARD TOURS OHIO DERAILMENT ZONE, CONDEMNS 'FAILURE OF LEADERSHIP'
"And that train carries toxic chemicals. The people are not oppressing anybody. There is no civil rights movement representing these people, No Biden executive orders providing equity for these people."
As far as Democrats' campaign narratives, people like those in East Palestine "are part of the problem" based on their immutable characteristics and other factors, Levin said.
"East Palestine, Ohio, like so many communities in America, disprove the racist propaganda and this phony equity agenda of the Democrat Party. They figure 'why lift a finger?'."
Turning to the resumed criticism of Trump by those on the left and in the media, Levin focused particularly on former Florida Republican Congressman Joe Scarborough – who along with co-host and wife Mika Brzezinski were frequent critics during the prior administration.
Levin called Scarborough – who once represented the district now served by Rep. Matt Gaetz, R-Fla., – a "reprobate malcontent … day in and day out."
Levin demanded Scarborough apologize to Trump, surmising the host won't because of his ego.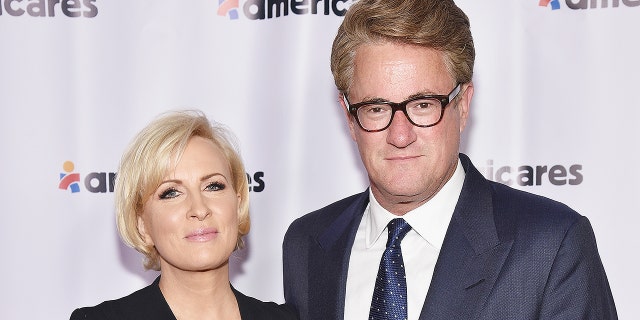 Reacting to Trump's visit, wherein the water flown in was purportedly the same as offered at Trump Hotels, Scarborough called the former president "gross."
"He really is. I mean, you're talking about branded Trump water," he said.
"He's such a hypocrite, too, talking about attacking Joe Biden while Joe Biden is going – risking his life fighting for Western democracy — something he doesn't give a damn about," the MSNBC host added, as Biden had visited Ukraine around the time Trump was on the Ohio-Pennsylvania border touring the affected area of the spill.
The disaster not only affected Ohio but Levin's home state of Pennsylvania as well – as communities in neighboring Beaver County have also been concerned about the aftermath and its effects.