Cher's relationship has everyone talking again, including her one-time co-star Alan Cumming.
Cumming was a guest on Thursday's episode of "Watch What Happens Live with Andy Cohen," and a caller asked if Cumming had talked with Cher about her new boyfriend.
"I haven't spoken to Cher for a while, actually, but I love her, and I'm all for her getting some action," Cumming quipped.
Cumming and Cher starred together in 2010's "Burlesque."
JENNIFER COOLIDGE, CHER AND HOLLYWOOD STARS WHO GO FOR YOUNGER PARTNERS: EXPERTS EXPLAIN WHY AGE GAPS CAN WORK
Cher has been dating Edwards, a Def Jam music executive, since November when they met during Paris Fashion Week. Edwards was previously in a relationship with model Amber Rose, and they share a child together.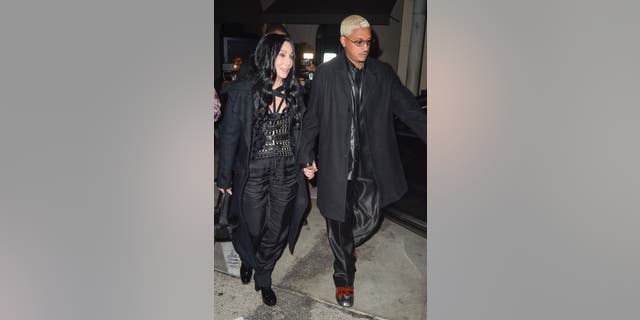 The "If I Could Turn Back Time" singer was previously married to Sonny Bono and Greg Allman and has dated Tom Cruise and Val Kilmer.
In December, the music icon sparked engagement rumors when she tweeted a picture of a diamond ring with, "THERE R NO WORDS, ALEXANDER,A.E," in the caption. Shortly after, she seemed to dismiss the speculation by reposting the same photo with a new caption, "I posted this cause his nails are so cool."
Cher has also brushed off criticisms of the 40-year age gap between her and Edwards.
CLICK HERE TO SIGN UP FOR THE ENTERTAINMENT NEWSLETTER
"I'm Not Defending us. Haters are Gonna Hate…Doesn' Matter That we're Happy & Not Bothering Anyone," Cher previously wrote on Twitter.
And the singer has routinely gushed about her partner on social media. 
Not long after their relationship became public, Cher tweeted a picture of Edwards in nothing but his underwear, and responded to comments from fans.
CLICK HERE TO GET THE FOX NEWS APP
One person wrote, "He is so handsome Cher. Definitely can see why you love him." 
And the "Believe" singer raved about him, tweeting, "I [love] HIM BECAUSE HE WASN'T AFRAID. HE'S KIND, HILARIOUS, SMART, TALENTED, BEAUTIFUL. WE TALK & LAUGH. WE R PERFECTLY MATCHED."