A top diplomat of the People's Republic of China met with Russian President Vladimir Putin this week, during which they had an "in-depth exchange of views on the Ukraine issue."
Director of the Office of the Central Commission for Foreign Affairs Wang Yi traveled to Moscow this week, meeting with top level Russian officials including Foreign Minister Sergey Lavrov, Security Council Secretary Nikolai Patrushev, and Putin himself.
US SENDING UP TO 200 MORE TROOPS TO TAIWAN AS CHINA TENSIONS GROW
Chinese Ministry of Foreign Affairs spokesman Wang Wenbin told the press Thursday that the meeting reaffirmed that Russian-Chinese relations are "rock-solid."
"Director Wang noted that despite the complex and challenging international landscape, China-Russia relations have stood the test of time and been mature, resilient and rock-solid," said Wenbin. "The China-Russia comprehensive strategic partnership of coordination never targets any third party, nor does it tolerate any third party interference or coercion."
BIDEN CHALLENGES PUTIN TO 'END THE WAR' IN UKRAINE, THREATENS TO RAMP UP SANCTIONS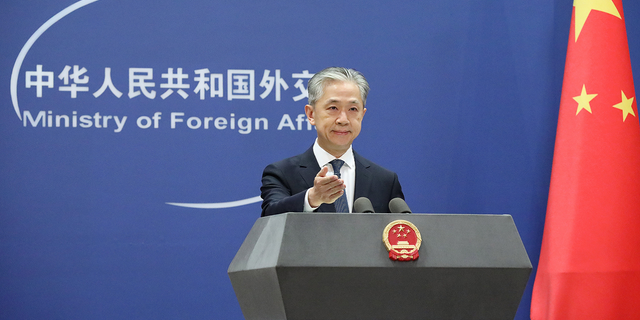 Wenbin's account of the meeting with Putin struck a surprisingly peace-oriented tone — the spokesman claimed Wang emphasized China's wish for Russia to find a resolution through "dialogue and negotiations."
"During the visit, Director Wang had an in-depth exchange of views on the Ukraine issue with the Russian side," Wenbin claimed. "He commended Russia's reaffirmation of its willingness to solve the issues through dialogue and negotiations. Director Wang stressed that the more complicated the situation is, the more important it is not to give up efforts for peace." 
PUTIN SAYS CHINA HAS 'AGREED' ON PRESIDENT XI JINPING VISITING MOSCOW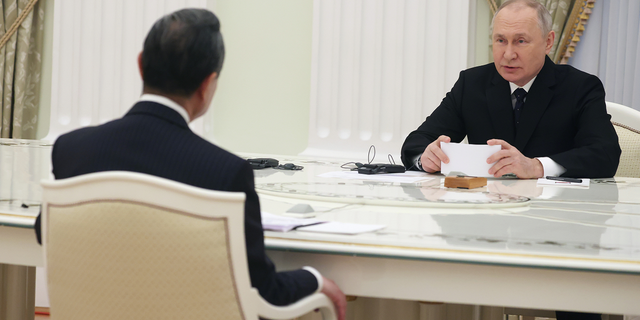 Chinese officials maintained a vague public attitude toward the Russian invasion of Ukraine — both attesting to their continued friendship with Russia and refusing to elaborate on what forms of aid it is willing to provide to its ally.
Wenbin added, "We hope that all parties will overcome the difficulties, continue to create conditions for dialogue and negotiation and find an effective way towards a political settlement. China will, as always, follow an objective and just position, and play its constructive role in seeking a political settlement of the crisis."
RUSSIA SUSPENDS PARTICIPATION IN NEW START NUCLEAR TREATY WITH THE US, PUTIN SAYS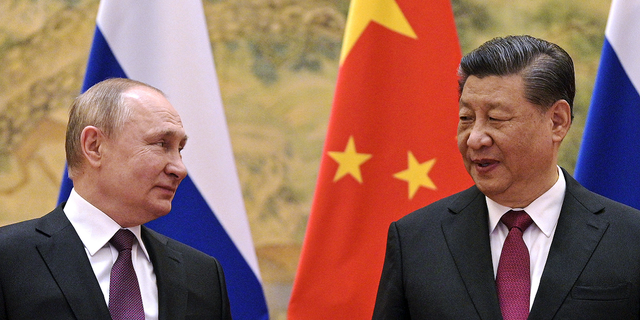 Putin said Wednesday that China has "agreed" to a meeting in Moscow between him and Chinese President Xi Jinping. 
Such an encounter between the two world leaders could happen as early as April, The Wall Street Journal reports, citing people familiar with the plan. 
CLICK HERE TO GET THE FOX NEWS APP 
"We await a visit of the President of the People's Republic of China to Russia, we have agreed on this," Putin told top Chinese diplomat Wang Yi on Wednesday during their meeting at the Kremlin, according to Reuters. "Everything is progressing, developing. We are reaching new frontiers."
Fox News' Greg Norman contributed to this report.