Marianne Williamson attacked the news media as well as the Democratic National Committee for "rigging" the election system and dismissing her presidential chances.
The Democratic presidential candidate sat down for an interview on ABC's "This Week" Sunday to discuss her 2024 campaign as an opposing option to President Biden. During the interview, Williamson took aim at what she considered "the system" of establishment Democrats and members of the media attacking her campaign.
"You have been called by, I think, the Associated Press, the longest of long shots," ABC correspondent Jonathan Karl asked.
"​I would bet that ​the Associated Press​ also said that Hillary Clinton was a shoo-in​," Williamson responded.
SEAN HANNITY: BIDEN AND DEMOCRATS ARE IN 'DEEP TROUBLE' FOR 2024 
Karl insisted, "I don't know if they would've used that language, actually."
"Maybe not, but the system, you know exactly what I'm saying. So the system that is now saying that I'm unserious, I'm not credible, or I'm a long shot is the very system that protects and maintains this idea that only those whose careers have been entrenched within the system that drove us into a ditch should possibly be considered qualified to lead us out of that ditch," Williamson said.
Williamson officially launched her presidential campaign on Saturday after revealing plans to begin campaigning on Feb. 23. While Williamson is being seen as a Democratic opponent to President Biden, Biden has yet to officially announce whether he will seek a second term.
Later on in the interview, Williamson also attacked the Democratic Party for undermining her campaign.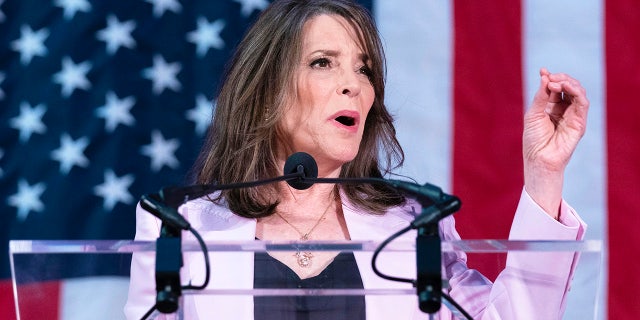 "The DNC should not be rigging this system. They don't even pretend anymore. They're not even covert about their — their swaying the primary season. They're very overt about it," Williamson said.
Karl asked, "So that's what's going on, is they're rigging the system for Biden?"
FORMER DNC CHAIR SLAMS BIDEN OVER SUPPORT FOR OVERRIDING DC CRIME BILL: 'HUGE MISTAKE' 
"They even admit that," Williamson responded, "They know that the president did not do well in New Hampshire. They know that New Hampshirites are very open to independent and more progressive voices. And they know that he did very well in South Carolina. They're not even– you know this, I know this, they know this. And they're not even pretending otherwise."
When asked whether she would endorse Biden as the Democratic nominee, she commented, "I will do whatever I feel I can do as an American to make sure that the neofascist threat that is represented by some aspects of the Republican Party does not win in 2024."
However, she also noted that she expects to debate Biden in a Democratic primary.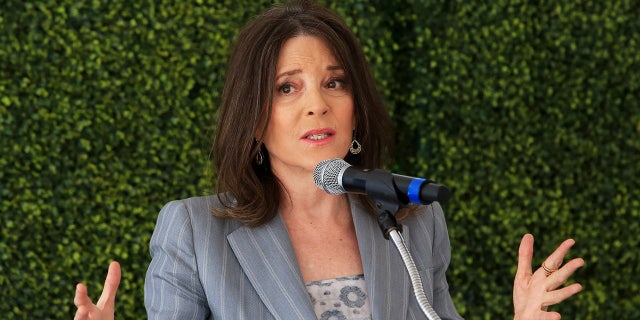 CLICK HERE TO GET THE FOX NEWS APP
"This is a democracy. This is not about what I think is wrong. Obviously, I believe the American people should be offered an agenda for genuine, fundamental economic reform, and it should be the voters who decide. It should not be the DNC that decides. It should be the voters that decide. That is what a democracy is," Williamson said.