Tarek El Moussa could not be happier with where he is now in his life – and that includes the newest addition to his family.
In an interview with Fox News Digital, the "Flip or Flop" star shared that the birth of his son, Tristan, brings "so much joy" to his household, which includes wife Heather Rae Young and the two children he shares with ex-wife Christina Hall: Taylor and Brayden.
"I honestly I mean, this is the happiest, hands down, the happiest I've ever been in my life," he said. "You know, I love being in my forties. I love being established. I love my family. I love my wife. I love my kids. Like, I couldn't be happier and that's the truth."
He continued: "This little guy, he just brings so much joy to the household. He's just so cute. He's really handy, he's always moving around and, you know, I'm just as obsessed with Taylor and Brayden and now looking at Tristan, I think about all the amazing things we're going to do together. We're going to go skiing and dirt biking and traveling and do jiu-jitsu and as a father, I just couldn't be happier."
TAREK EL MOUSSA AND HEATHER RAE YOUNG WELCOME SON: 'OUR BABY BOY IS HERE'
El Moussa and the "Selling Sunset" star welcomed their son Tristan at the end of last month. Young announced the news in an Instagram post with the caption reading, "Mama & baby are happy, healthy, tired but doing well. Our hearts are so happy."
"This is the happiest, hands down, the happiest I've ever been in my life."

— Tarek El Moussa
El Moussa said that his ex-wife and "Flip or Flop" partner, Hall, was "very supportive" and congratulated the couple after Tristan's birth. Hall and El Moussa's children Taylor, 12, and Brayden, 7, also couldn't be more thrilled about their younger sibling. 
TAREK EL MOUSSA DITCHES 'LONELY HOLIDAYS' THANKS TO WIFE HEATHER: 'NEVER GOING BACK' 
"I was a little bit nervous at first, you know, but they were so excited when they found out that Heather was pregnant, and you got to understand something, these kids, they're obsessed with Heather, like they are obsessed with her," El Moussa began. 
"So, you know, the cutest thing was Brayden. He's seven years old. He tracked the entire pregnancy with Heather on her app. So, like, every day he's coming over. 'Is the baby a grape? Is the baby a banana? Is it a watermelon?' because he wanted to follow the size. Taylor, you know, she's just a sweetheart, and she adores the little brother. She holds him, they cuddle and both kids are just so happy," he continued.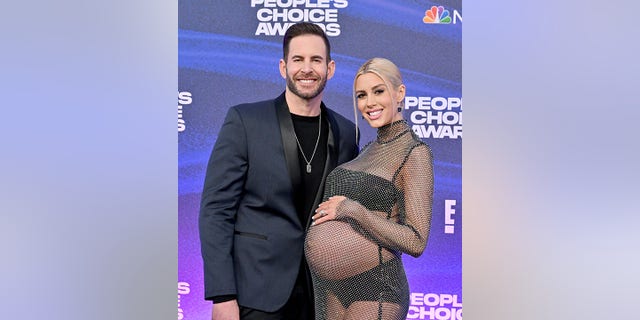 As for what's different when it comes to being a father for the third time? El Moussa, who is now in his 40s, shared that he wants to be more present. 
"This time it was very important for me to really, really spend that one-on-one quality time with him. I'm not saying I didn't do it with my other kids, okay, I did, but I'm older, I'm calmer, I'm more established. I have a little bit more time to relax. So I'm really enjoying that time with him," El Moussa explained.
On top of the addition of a newborn, El Moussa and Young are starring in a new HGTV series, "The Flipping El Moussas," which debuts on March 2, and will feature 10 episodes.
Fans will get an inside look at Young's pregnancy journey and her introduction to the flipping homes business, which is much different than the high-end real estate Young is used to on Netflix's "Selling Sunset." 
"We are ecstatic that we will flip some next-level homes in spectacular locations, all while getting to spend more time together as a family," Tarek said in a press release. "We'll have some battles of budget versus design choices, but in the end it will make us stronger in business and in life as we navigate our busy lives as we await our new baby boy," Young added.
During Tarek's interview with Fox News Digital, he put an emphasis on his blended family and how that impacts the show. 
CLICK HERE TO SIGN UP FOR THE ENTERTAINMENT NEWSLETTER
"Some of the different things you're going to see is, you know, the kids are a lot more involved. The family's a lot more involved. Obviously, my new wife, Heather, she's involved in the show and when she's available, she's filming with me. So together we're just having so much fun remodeling and fixing up these houses," he said.
El Moussa noted that the real estate market has changed a lot since he first delved into the market, so fans are going to be "shocked" by the ending of some of the episodes.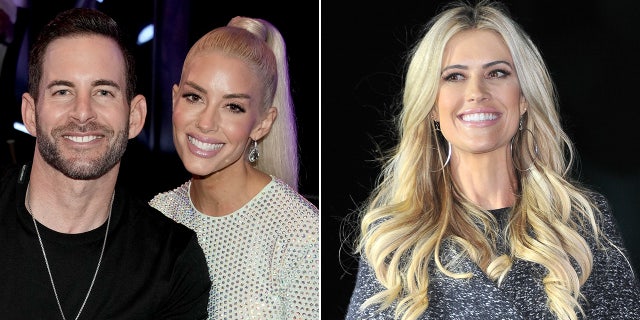 Outside of real estate, El Moussa also reflected on tough times. The reality TV star is a survivor of testicular and thyroid cancer, suffered an accident on his back and went through a divorce with Hall in 2016, which El Moussa says is when he hit "rock bottom." 
"I did a lot of work on myself to get to where I am today."

— Tarek El Moussa
Following his diagnoses, he shared that his entire lifestyle changed, including cutting back on drinking and quitting smoking altogether.
"I was a smoker. Awful for me. I was not eating good foods. I was stressed out all the time. So it made me really reevaluate my life," he said.
El Moussa continued, "You know, after the cancers, I had that terrible accident on my back and I lost like 60 pounds, and I was on all those opiates. I was you know, I was not doing well. This is what people don't understand – you know, from 2013 to 2016, it was hell. You know, I fought two cancers, I fought back surgery. I was dealing with all these hormone problems. And honestly, I lost my way. I lost who I was when I looked in the mirror, I didn't know who I was anymore.
CLICK HERE TO GET THE FOX NEWS APP
"You know, hitting rock bottom in 2016 when my ex-wife decided that she wanted to end things, you know, that's that's when I had to dig deep and really figure out who I was and who I wanted to be and where I wanted to go and how I was going to get there. So I did a lot of work on myself to get to where I am today," El Moussa shared.