Politicians are reacting to former President Jimmy Carter entering hospice care, saying that he's a "model of kindness, generosity."
Carter will spend his "remaining time" in his Georgia home receiving hospice care, according to a statement from the Carter Center on Saturday.
"After a series of short hospital stays, former U.S. President Jimmy Carter today decided to spend his remaining time at home with his family and receive hospice care instead of additional medical intervention," a statement from the organization reads. "He has the full support of his family and his medical team. The Carter family asks for privacy during this time and is grateful for the concern shown by his many admirers."
Carter turned 98 in October. He served as the 39th President of the United States. 
FORMER PRESIDENT JIMMY CARTER TO SPEND 'REMAINING TIME' AT HOME RECEIVING HOSPICE CARE
Rep. Bill Pascrell, Jr., D-N.J., said that Carter is a "model of kindness."
"Please have a prayer and a warm thought for Pres Carter. Jimmy Carter is the model of kindness, generosity, and decency that is the finest part of America. He is a great man and in our family's thoughts now," he said.
Rep. Don Beyer, D-Va., said on Twitter that he is "Sending my best to the Carter family and to Jimmy Carter, a kind, decent, generous-hearted man."
MARIANNE WILLIAMSON TEASES 'IMPORTANT ANNOUNCEMENT,' EXPLORES WHITE HOUSE RUN TO DEFEND 'TENETS OF LIBERTY'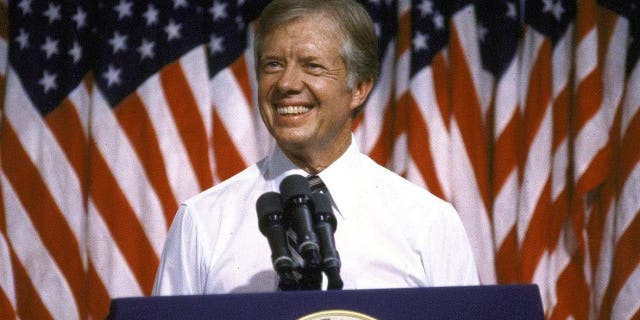 Rep. Eric Swalwell, D-Calif., said on Twitter that he's "Wishing the Carter Family peace and gratitude for the family's decades of service."
CLICK HERE TO GET THE FOX NEWS APP