Fourth Watch editor and author Steve Krakauer feels the press' Trump-era "fact-checking fetish" that vanished once President Biden took office is a microcosm of why Americans have grown skeptical of the corporate media. 
Krakauer's new book, "Uncovered: How the Media Got Cozy with Power, Abandoned Its Principles, and Lost the People," hit stores on Tuesday and essentially turns his Fourth Watch newsletter into a lengthy breakdown of changes the longtime media junky has noticed about the industry he loves. 
"In the last five-to-seven years something significant has shifted… I don't personally consider myself very ideological. And so, this is not really an ideological shift that's happening. It's something that's really fundamental about the industry of journalism," Krakauer told Fox News Digital. 
"I'm someone who thinks that we need a strong press, a press that people in America trust. And as I see that slipping away, as I see that eroding, it's bothered me so much," Krakauer continued. "I started Fourth Watch a few years ago and then 'Uncovered' really came out of that, looking at what is it that went wrong. What seriously went off the rails here and how can we potentially get it back?"
MEDIA CENSORSHIP OF HUNTER BIDEN LAPTOP STORY WAS HORRIBLE AND THEN IT GOT EVEN WORSE
Krakauer has worked at a variety of news organizations, including CNN and NBC. He feels everyone knows the mainstream media "leans left," so he set out to dig deeper and identify the biggest problems plaguing the industry. "Uncovered" features 26 on-the-record interviews with media juggernauts such as Fox News host Tucker Carlson, and Krakauer penned chapters on everything from how CNN lost its way to the "completely broken" financial incentive structure in the media today.  
Krakauer also put a spotlight on geographic bias, a lack of introspection, the press' "coziness with power," and "anti-speech activism" that has coincided with the "rise of media influencers" on social media platforms such as Twitter. 
"The media, historically for hundreds of years, was not necessarily well-liked by establishment or even by the people. They were nosey, they were annoying, now that's completely flipped," he said. "Now the media wants to be loved and literally liked and retweeted to get new followers and fans. That is a big shift, also, and that's really been disastrous for the press." 
Krakauer also examines what he calls a "fact-checking fetish" the press had during the Trump administration that has essentially disappeared since Biden moved into the White House.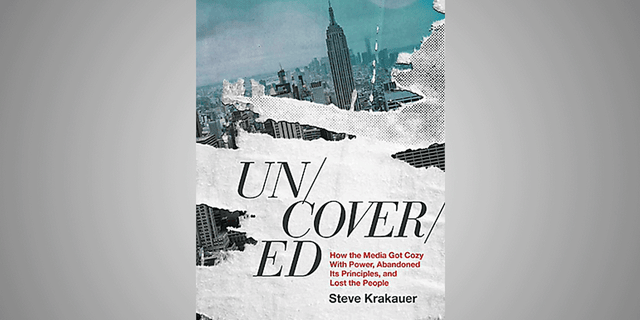 "It saw the rise of people like [CNN fact checker] Daniel Dale. I mean, they literally became celebrities. They were described in these glowing terms on social media and on air, on CNN. And essentially what they were doing was doing a fact check in some ways and in other ways, a sort of feeling check, if you will, of how what Trump said, the exaggerations in some cases, the lies, and tracking this over time," Krakauer said. 
"The Washington Post decided to start a database of every quote unquote, lie or mistruth that President Trump said. It got to 10,000, they had a whole party, it seemed like, on social media when that happened," he continued. "I think the instinct to fact-check people in power is actually one that makes a lot of sense. The problem, though, is what happened after."
CNN 'FACT-CHECKER' PRAISES BIDEN AS 'GENERALLY FACTUAL,' CALLS INACCURACIES 'SLIPS RATHER PURPOSEFUL LIES'
Krakauer pointed out that once 2021 came around and Biden moved into the White House, fact-checkers were largely silent. 
"Daniel Dale is suddenly, mostly, sidelined. I think he took a very long vacation at the beginning of the Biden administration. And then he starts coming back, in fact, checking people like Marjorie Taylor Greene or random Twitter accounts instead of President Biden," he said. "I would say there's a lot of meat on that bone to fact-check President Biden, but he's decided to sort of change his plan there. And The Washington Post completely shut down their entire fact-checking database at that point."
Indeed, Dale has been far less of a presence on CNN's airwaves during the Biden presidency. Last year he even praised Biden as being "generally factual," even going so far as to offer a defense for various inaccuracies spoken by the president.
Krakauer, who appeared on "Tucker Carlson Tonight" Monday and "FOX & Friends" on Tuesday, said the hypocrisy with the entire fact-checking business is overwhelming and obvious.
CNN FACT CHECKER DANIEL DALE SLAMMED FOR TAKING THE 'CONSERVATIVES POUNCED' APPROACH TO FALSE IVERMECTIN STORY
"Not just in the people that do the fact-checking, but the people that consume it, that the sort of fetishists out there that so ate up the concept of fact-checking during the Trump era suddenly didn't really have much need for it anymore once 2021 came," Krakauer said.  
"I think that when people notice hypocrisy, you know, it's going to stand out in the press, and it always will lead to a further distrust of the press to give it to you straight," he continued. "With fact checking — with so many of what happened during the four years of Trump — then the whiplash that we saw since then, it only leads to the further erosion of trust by the public because it's so obvious that it's not clear on both sides."
"Uncovered" also dives into the "elite censorship racket" between corporate media and government, why laziness and incompetence is often mistaken for diabolical conspiracy, a never-before-told look at the internal drama plaguing The New York Times and Krakauer's solutions to restoring America's media. 
"Uncovered: How the Media Got Cozy with Power, Abandoned Its Principles, and Lost the People" is available now where books are sold. 
CLICK HERE TO GET THE FOX NEWS APP