Transportation Security Administration, or TSA, agents at the Louis Armstrong New Orleans International Airport (MSY) stopped a man from carrying an assault rifle and 163 rounds of ammunition onto a plane heading to Houston, Texas on Feb. 14.
The TSA said in a press release last week that a 52-year-old man from Jefferson, Louisiana, was in possession of a Palmetto PA-15 Multi AR firearm, which was loaded with 30 rounds of .300 caliber ammunition, and five additional loaded magazines, bringing the total number of rounds to 163. The man planned to carry the gun and ammunition onto the plane.
"Threat detection is our mission, and our dedicated workforce is protecting the traveling public every day," TSA Federal Security Director Arden Hudson said. "Passengers need to focus on what is inside their carry-ons before entering our checkpoint. The introduction of a loaded weapon poses an unnecessary risk to both the traveling public and our employees."
SUSPECT IN LSU STUDENT MADISON BROOKS' ALLEGED RAPE ARRESTED AGAIN, ACCUSED OF THIRD SEX CRIME
According to the TSA, the man now faces a civil penalty and a fine up to $15,000.
The TSA said rifle was the second firearm that was intercepted that day, with the other gun being a Glock.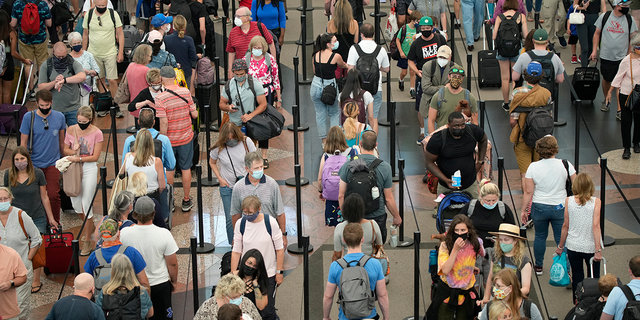 So far this year, TSA agents MSY have stopped14 firearms from being carried onto planes, and 13 of those guns were loaded.
LOUISIANA POLICE ARREST 19-YEAR-OLDS IN 'TARGETED' BATON ROUGE NIGHTCLUB SHOOTING THAT LEFT 12 WOUNDED
Those carrying the guns were between the ages of 24-52.
The TSA also said a 64-year-old man was stopped at Shreveport Regional Airport and a 66-year-old man was stopped at Baton Rouge Metropolitan Airport for carrying loaded guns to a security checkpoint at an airport.
"If you are going to travel with your gun it must be in your checked bag but be sure you know exactly what the gun laws are on each side of your trip," said Hudson, who leads TSA's operations across the State of Louisiana. "Guns may not be legal to transport even in checked baggage in some jurisdictions."
Last year TSA agents at MSY intercepted 90 guns at the pre-flight checkpoint, and the year before they intercepted 119, putting the airport in the top 10 list of airports in the U.S. where passengers violated the federal law by bringing a firearm to the security checkpoint.
CLICK HERE TO GET THE FOX NEWS APP
The TSA gave several tips for travelers for getting through the security checkpoints quickly and efficiently, and the first tip is to not bring guns in carry-ons.
The administration said guns can oftentimes be inside of checked baggage if they are unloaded and in a locked, hard-sided case.