A statue of Christopher Columbus has been vandalized in New York City.
A photo taken Monday morning showed the statue of Columbus in Central Park sprayed with red paint. The messages "murderer" and "land back" were tagged on its pedestal. 
Reached by Fox News Digital Monday morning, Central Park police confirmed the incident is under investigation but said no further information is available at this time. 
The statue, located on the south end of the Central Park Mall, was surrounded by metal barricades Monday. It is not clear if any suspects were identified or if any arrests were made. 
PHILADELPHIA COLUMBUS STATUE UNCOVERED FOR FIRST TIME IN TWO YEARS 
According to the NYC Parks website, the bronze and Rockport polished granite statue was dedicated on May 12, 1892. 
The New Yorkers of the New York Genealogical Society commissioned Spanish sculptor Jeronimo Sunol. 
The statue was donated in commemoration of the 400th anniversary of Columbus' voyage and the discovery of the new world.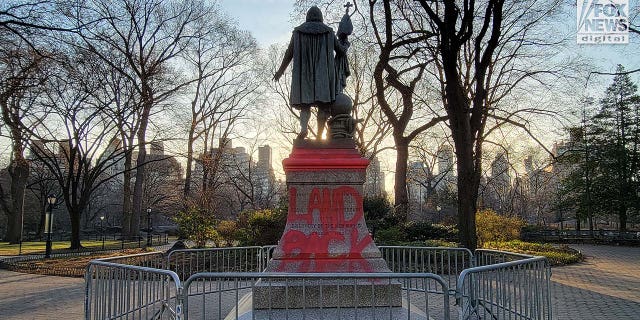 In the wake of George Floyd's death, statues of Columbus, as well as Confederate leaders and other monuments, have been torn down or vandalized by social justice protesters. Some local governments have removed statues to avoid further controversy, as activists pushed for Columbus Day, observed in October, to be converted to Indigenous People's Day. 
They argue Columbus' arrival in the Americas led to mass genocide.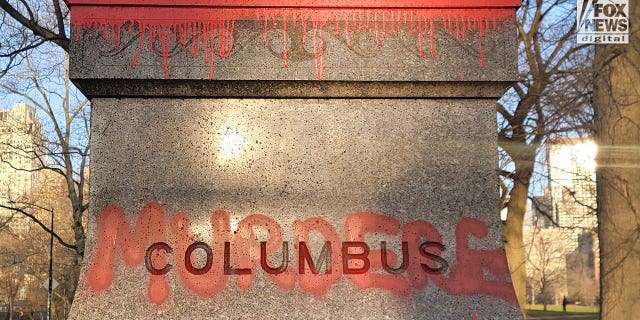 Columbus and Confederate statues alike were similarly vandalized in the aftermath of the deadly Charlottesville, Virginia, rally in 2017, but 2020's unrest came at a larger national scale.  
In April 1492, King Ferdinand V and Queen Isabella of Spain agreed to sponsor Columbus's proposed voyage. On Aug. 3, 1492, three modest ships, the Nina, the Pinta, and the Santa Maria, set sail. They sighted land on Oct. 12, 1492, landing on Guanahani, an island in the Bahamas. Columbus claimed the land for the King of Spain, renaming it San Salvador.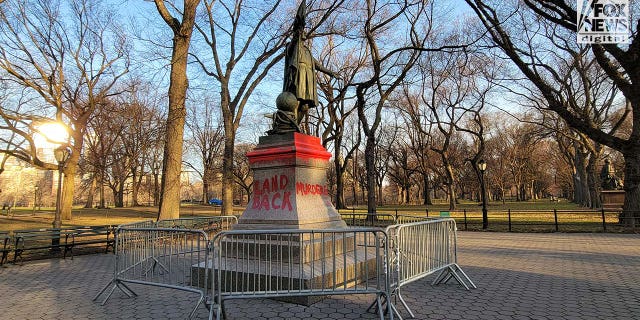 Believing he had reached the West Indies, Columbus called the natives "los Indios," or Indians. The members of the expedition returned to Spain triumphantly on March 15, 1493. After receiving the title of nobility, Columbus launched a larger expedition. On Nov. 3, 1493, a fleet of 17 ships anchored near present-day Puerto Rico. 
His third and fourth voyages set sail in 1498 and 1502, according to the NYC Parks website's description of the Central Park statue.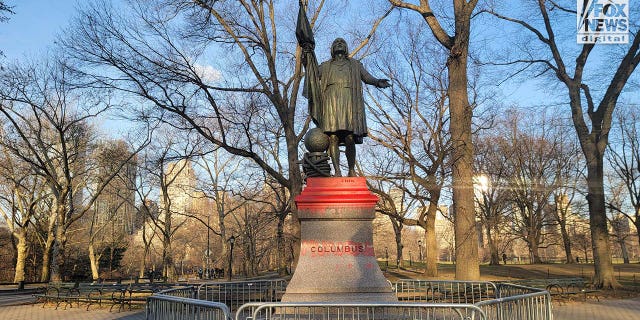 CLICK HERE TO GET THE FOX NEWS APP
"Later, when Americans looked for founder-heroes in the early years of the republic, authors like Washington Irving 'The Life and Voyages of Christopher Columbus' (1828) documented Columbus's story," the city government website says. "Focusing largely on his arrival in the Americas as opposed to the colonization of the area, Irving and others enshrined Columbus as a hero. His popular reputation ever after became that of the bold, courageous adventurer who enabled American civilization, and he is memorialized here and elsewhere as such."