A nonprofit organization founded by former Vice President Mike Pence is launching a major ad campaign to combat a controversial investing movement that critics decry for pushing "woke" political causes.
Advancing American Freedom on Wednesday announced a six-figure ad campaign in Arizona and Montana calling for support on a resolution introduced by Sen. Mike Braun, R-Ind., and Rep. Andy Barr, R-Ky., that would roll back the Biden administration's ability to regulate how Americans' retirement accounts are managed with respect to ESG criteria.
ESG, short for environmental, social, and governance investing, is based on the concept that investors should use these three broad categories when evaluating where to put their money, prioritizing progressive values and "social responsibility" when making financial decisions.
The Biden administration recently implemented a new rule that allows managers to factor environmental and social issues into investment decisions for the retirement funds of more than 152 million Americans.
GOP PUSHBACK TO 'WOKE' ESG INVESTING BEGINS TO BEAR FRUIT
Beyond the ad campaign, Advancing American Freedom also recently led a coalition letter, co-signed by over 100 conservative leaders and officials, calling on members to support the resolution.
Pence has been an outspoken critic of ESG, decrying it in speeches and op-eds.
ESG has become a politically explosive issue over the past couple years.
The theory underpinning ESG is that corporations should deemphasize their traditional responsibility to maximize value for shareholders and instead make new commitments to alternative stakeholder groups, serving other interests and society at large.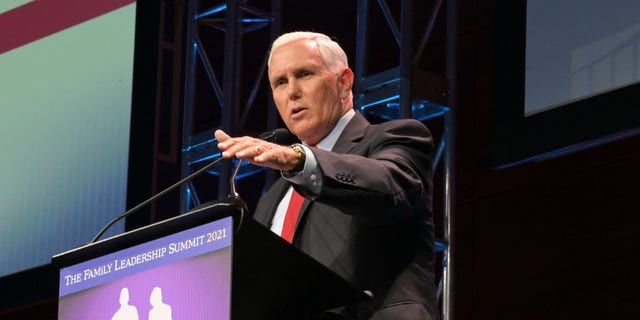 MIKE PENCE CALLS OUT BIDEN ADMINISTRATION'S FAILED LEADERSHIP, SAYS THEY NEED 'PEACE THROUGH STRENGTH' POLICY
Many investors now use ESG as a rating system to measure a company's advancement of policies designed to address climate change, increase corporate board demographic diversity, and support a progressive "social justice" agenda, among other initiatives.
However, critics of what they describe as "corporate wokeness" have been mobilizing against the march of ESG advocates, arguing the financial movement is a way to push left-wing causes through business rather than the legislature.
The ad campaign by Advancing American Freedom comes as speculation grows that Pence may join the 2024 Republican presidential primary field.
CLICK HERE TO GET THE FOX NEWS APP
Next week, the former vice president is heading to South Carolina, the state that holds the third contest in the GOP presidential nominating calendar. He's also spoken out on a range of prominent issues in recent days.