Firefighters in Phoenix worked to contain a fuel leak early Sunday after a tanker carrying 8,000 gallons of gas was punctured, officials said.
Hundreds of gallons of unleaded gasoline leaked near 35th Avenue and Bethany Home Road after the tanker appeared "to have taken the turn a little too short," Phoenix Fire Capt. Scott Douglass told FOX10 Phoenix.
Hazmat crews built berms to contain and divert the leaking fuel so that it did not go into any storm drains.
Two nearby businesses were temporarily evacuated and drivers were asked to avoid the area as teams cleaned up the leak. 
ARIZONA NITRIC ACID SPILL CAUSED BY DEADLY ROLLOVER LEADS TO 'EXTENSIVE CLOSURE' OF FREEWAY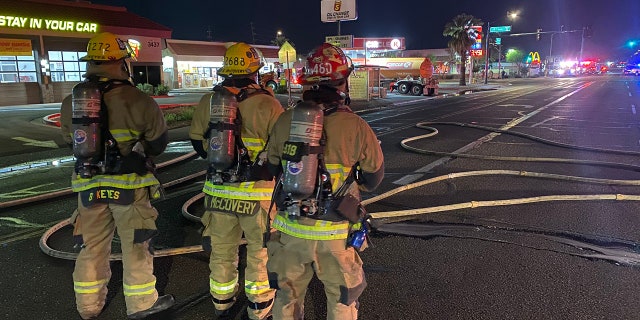 No injuries were reported.
BUTTIGIEG VOWS TO 'HOLD NORFOLK SOUTHERN ACCOUNTABLE' AS CRITICISM MOUNTS OVER RESPONSE TO TRAIN DERAILMENT
A nursing tanker was called in to transfer the remaining fuel to another truck, officials said.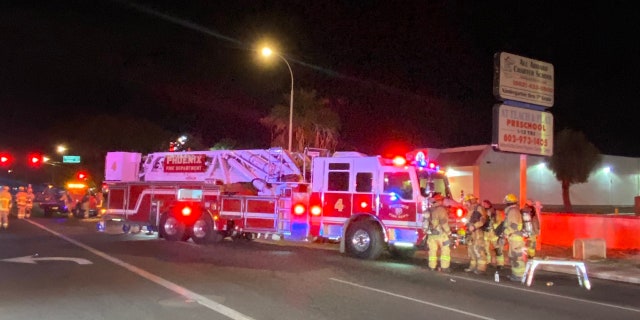 The fuel leak comes nearly a week after commercial truck tractor pulling a box trailer rolled over in Tucson, spilling nitric acid, and about two weeks after a train hauling toxic chemicals derailed in East Palestine, Ohio.