Dozens of underwater photographers have received recognition for the hard work they put in throughout 2022 with the 11th Annual Ocean Art Underwater Photo Contest hosted by the Underwater Photography Guide.
Headquartered in Culver City, California, the Underwater Photography Guide is an online book and magazine that provides underwater photography resources.
The Ocean Art Underwater Photo Contest highlights impressive underwater photos captured by photographers of "all levels and disciplines" from around the world.
COMEDY WILDLIFE PHOTOGRAPHY AWARDS NAMES FUNNIEST ANIMAL PHOTOS OF 2022: SEE THE WINNING SHOTS
Thousands of photographers from 96 countries reportedly entered the 2022 competition in hopes of winning one of the contest's many prizes, which included liveaboard dive cruises, resort stays, multi-day diving packages and gift certificates. 
Nirupam Nigam, editor-in-chief of the Underwater Photography Guide, oversaw the competition and its 14 photo categories.
"The winners of Ocean Art 2022 surprised me," said Nigam in a statement. 
"I expected an 'Instagrammable' moment to steal the show. Instead, each image is that of photographic excellence or poetic reflection of the natural world around us."
He continued, "These images will be seared in my mind [for] years to come."
11th Annual Ocean Art Underwater Photo Contest winners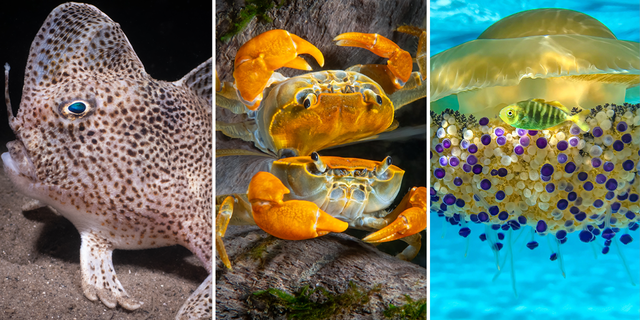 The 14 photo categories that made up the 11th Annual Ocean Art Underwater Photo Contest were Wide Angle, Macro, Marine Life Behavior, Portrait, Coldwater, Nudibranchs, Blackwater, Underwater Conservation, Underwater Art, Black & White, Compact Wide Angle, Compact Macro, Compact Behavior and Mobile Phone.
PHOTOGRAPHER WHO SHOCKED PEOPLE WITH ANT FACE PIC SHARES MORE PHOTOS THAT STUN: 'LOOKING FOR UNSEEN ANGLE'
Here's a quick look at eight of the category winners who earned first place, plus those who won the "best in show" honor.
Best in Show and Macro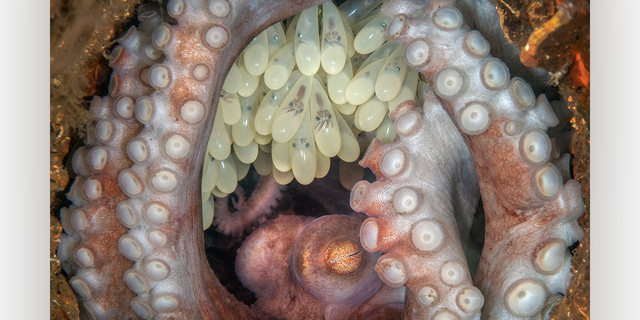 Kat Zhou of San Francisco won the macro category of the Ocean Art Underwater Photo Contest for her "Octopus Mother" submission, which went on to win the contest's "best of show" photo.
The photo, captured in early March at Blue Heron Bridge, a popular dive site in West Palm Beach, Florida, shows a Caribbean reef octopus guarding her eggs off the coast. 
Female octopi die shortly after their eggs hatch.
Zhou reportedly won a liveaboard dive trip for two with Carpe Diem Cruises, a cruise line in the Maldives. 
NATIONAL GEOGRAPHIC SPOTLIGHTS EXTRAORDINARY PHOTOGRAPHY AS 'PICTURES OF THE YEAR': HERE ARE 10 GREAT SHOTS 
Wide Angle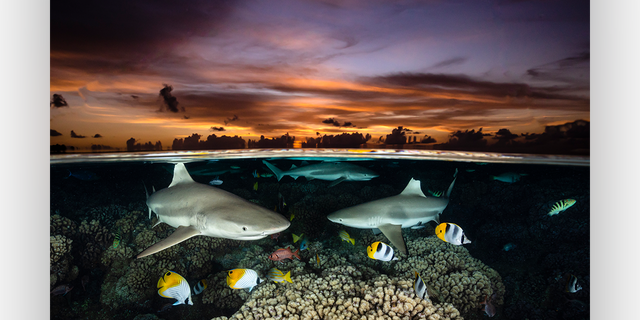 Renee Capozzola of Southern California won the wide angle category of the Ocean Art Underwater Photo Contest with her "Shark Trio" submission.
She photographed the sharks at a remote atoll in South Fakarava, French Polynesia, which is considered a UNESCO Biosphere Reserve. 
Capozzola reportedly took the photo after a school of tangs attracted a group of sharks to the shallow end.
Capozzola won a 14-night dive package for one at the Kri Eco Resort in Raja Ampat, Indonesia.
Marine Life Behavior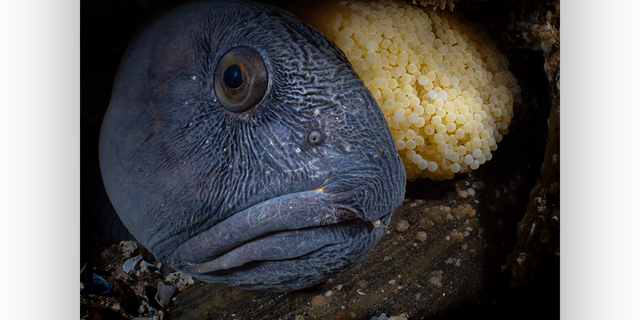 Dr. Galice Hoarau, an evolutionary biologist in Bodø, Norway, won the marine life behavior category of the Ocean Art Underwater Photo Contest with his "Nest" submission, which shows a male Atlantic wolffish guarding an underwater egg nest in Saltstraumen, Norway.
FLORIDA PHOTOGRAPHER SNAPS IMAGE OF HERON FLYING OFF WITH BABY ALLIGATOR: 'RIGHT PLACE AT RIGHT TIME'
Wolffish reportedly help keep sea urchins from overgrazing the kelp forests in Norwegian inlets.
Hoarau won a 7-day, 8-night dive cruise courtesy of the Coralia Liveaboard Indonesia cruise line. He'll get to choose between visiting Indonesia's Raja Ampat Regency or Komodo island.
Portrait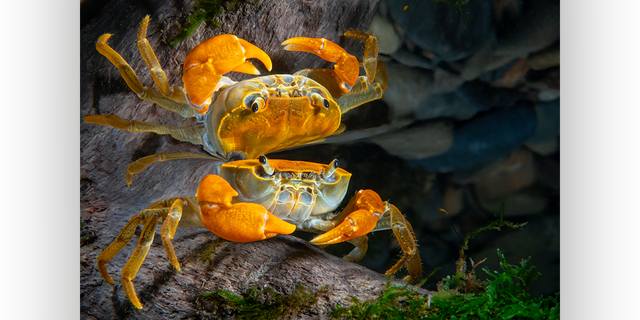 Kuo-Wei Kao of Taiwan won the portrait category of the Ocean Art Underwater Photo Contest with his "Mirror Reflection" submission.
He photographed a crab that stood right under a stream's surface in Pinglin, Taiwan. 
The crab's features were reflected by the water with striking detail.
LION STARES, GROWLS AT NATURE GUIDE FROM OUTSIDE A KITCHEN WINDOW: VIDEO 
Kao won a 14-night dive package to the White Sands Beach Resort Lembeh in Indonesia.
Coldwater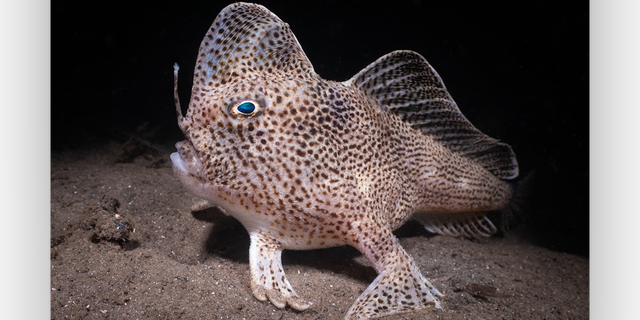 Nicolas Remy of Sydney, Australia, won the coldwater category of the Ocean Art Underwater Photo Contest with his "Rare Spotted Hand-Fish from Tasmania" submission.
He photographed the "critically endangered" anglerfish at the Derwent River in Hobart, Tasmania, Australia, which is one of the few places the fish can be found in Tasmania. 
It's believed that fewer than 3,000 spotted hand-fish remain in the wild, and the rare species is threatened by pollution and invasive seastars. 
Remy won a trip for one with Columbia Dive Adventures, a liveaboard cruise operator that explores Malpelo, Colombia.
Nudibranchs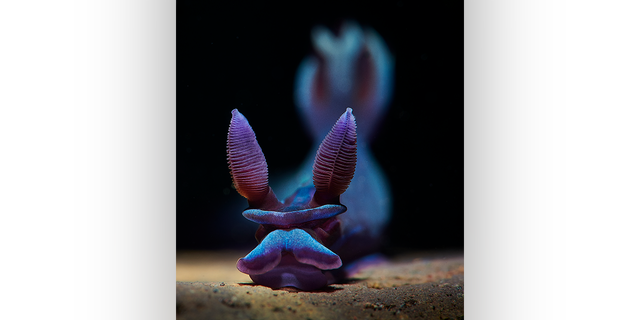 Aleksei Permiakov of Panglao, Philippines, won the nudibranchs category of the Ocean Art Underwater Photo Contest with his "Ribbed" submission.
The underwater photographer captured a Tambja Morosa nudibranch, which is a soft-bodied marine gastropod mollusk, near a drop-off dive site in Tulamben, Bali, Indonesia.
Permiakov won a 7-night trip to Villa Markisa in Bali that will provide him with up to 15 diving sessions.
Underwater Conservation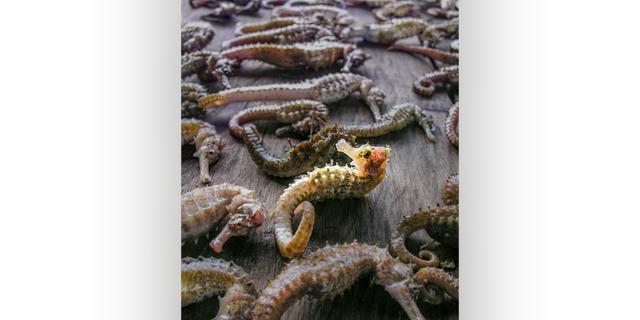 Lawrence Alex Wu of Phuket, Thailand, won the underwater conservation category of the Ocean Art Underwater Photo Contest with his "Sad Catch" submission.
In an undisclosed location, Wu photographed a pile of seahorses sprawled out over a wooden surface. 
FOLLOW US ON FACEBOOK FOR MORE FOX LIFESTYLE NEWS
"Seahorses have been fished to near extinction, mainly for medicinal use … but not scientifically proven to have any medicinal properties," Wu wrote in his photo submission.
Wu won a diving trip with DiveDamai, a luxury liveaboard company in Indonesia, and he'll get to take pick the vessel he takes his dive trip on.
Mobile Phone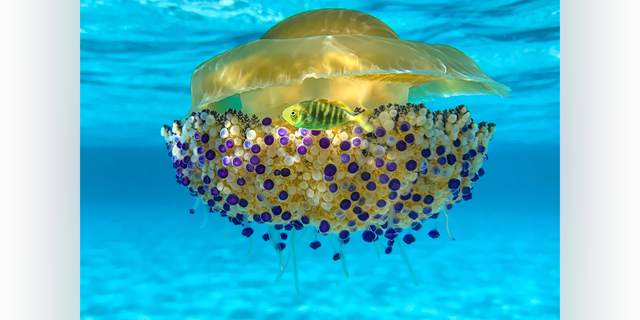 Alessandro Buzzichelli of Italy won the new mobile phone category that debuted during the 11th Annual Ocean Art Underwater Photo Contest with his "Cassiopea in the Blue" submission.
He photographed hundreds of Cassiopea jellyfish in Sardinia, Cala Liberotto, Italy, with his iPhone 7 and Haoguduo Phone Case.
Alessandro won a SeaLife SportDiver Smartphone Housing, which is a waterproof smartphone case designed for diving and underwater photography.
CLICK HERE TO SIGN UP FOR OUR LIFESTYLE NEWSLETTER
The deadline for the 11th Annual Ocean Art Underwater Photo Contest was set on Nov. 30, 2022.
Competition judges included prestigious underwater photographers Tony Wu of Japan, Mark Strickland of Port Hueneme, California, and Marty Snyderman of Solana Beach, California. 
CLICK HERE TO GET THE FOX NEWS APP
Underwater Photography Guide reports that its grand prizes were facilitated by "generous sponsors" and it awards more than $100,000 in travel and photo gear prizes.