FIRST ON FOX: A far-right Republican congresswoman suggested the U.S. go through a "national divorce" on Presidents Day.
"We need a national divorce," Rep. Marjorie Taylor Greene, R-Ga., tweeted on Monday.
REPUBLICANS TEASE REP. MARJORIE TAYLOR GREENE AFTER BALLOON STUNT
"We need to separate by red states and blue states and shrink the federal government," Greene tweeted, going on to claim that everyone she talks to "says this."
"From the sick and disgusting woke culture issues shoved down our throats to the Democrat's traitorous America Last policies, we are done," Greene wrote.
The Georgia firebrand's comments are par for the course for Greene, whose previous statements have landed her in hot water among Democrats and even GOP leadership.
Greene has said she regrets her past QAnon content posts, which included content about "lasers or blue beams of light" under the control of a Jewish family leading a left-wing cabal.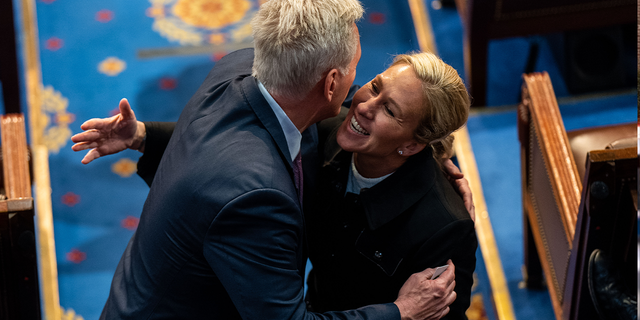 Greene was previously a harsh critic of House Speaker Kevin McCarthy, R-Calif., and made her name as an anti-establishment candidate.
McCarthy won her over before his contentious speakership fight kicked off, but the move did not endear Greene to her firebrand colleagues who opposed the now-speaker's gavel candidacy.
CLICK HERE TO GET THE FOX NEWS APP