The Kremlin has yet to respond publicly to President Biden's secret trip to Ukraine Monday as the war nears the one-year anniversary mark. 
Russian media pushed the narrative that Biden would use his trip to start outlining a strategy for peace negotiations between Russia and Ukraine, though the president did not allude to any suggestion that he and Ukrainian Volodymyr Zelenskyy discussed peace plans. 
Instead, Biden pledged "another delivery of critical equipment, including artillery ammunition, anti-armor systems, and air surveillance radars to help protect the Ukrainian people from aerial bombardments."
BIDEN'S SURPRISE VISIT TO KYIV WILL HAVE 'ZERO' IMPACT ON RUSSIA-UKRAINE CONFLICT, PUTIN EXPERT SAYS
He also said the U.S. will announce additional sanctions against "elites and companies that are trying to evade or backfill Russia's war machine."
Kremlin spokesman Dmitry Peskov did not comment on Biden's trip but said Russian President Vladimir Putin was working on his address to the federal assembly scheduled for Tuesday, reported Russian media. 
Russian expert and former Defense Intelligence Agency intel officer for Russian Doctrine & Strategy Rebekah Koffler told Fox News Digital that she does not believe Putin or his speech will be influenced by Biden's visit to Ukraine. 
ZELENSKYY: BIDEN'S SURPRISE VISIT 'BRINGS US CLOSER' TO VICTORY OVER RUSSIA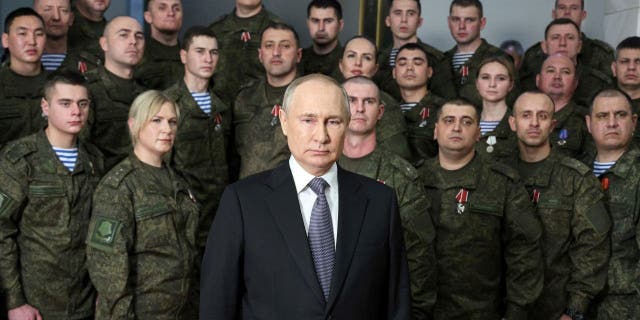 "Russia and Putin are not afraid of words, visits, and other showmanship. They view it as theatrics," she said. "Putin does the same thing when he visits his counterparts in China, Iran, etc."
Koffler said Putin "may spin the visit" as an attempt by Biden to convince Zelenskyy to forfeit the fight as expected spring time offensives near.
"Regardless, Putin will use the speech tomorrow to galvanize the Russian people for the war, to defend Russia from Western assault," she added. "This has been Putin's narrative – preparation for an all-out war against Western aggression."
The White House did not comment on specific security details surrounding Biden's trip but said that "basic communication with the Russians occurred to ensure deconfliction" ahead of Biden's visit.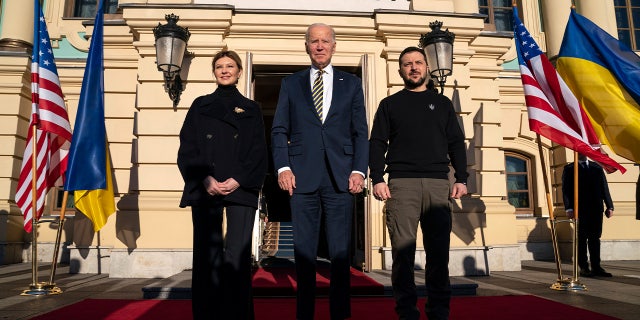 CLICK HERE TO GET THE FOX NEWS APP 
Former Russian president and Moscow's current Security Council Deputy Chairman Dmitry Medvedev confirmed that Biden had "received security guarantees" ahead of his trip in a Telegram post Monday, but he did not say who had provided the assurances. 
Speculation had been building for weeks whether the president may make a trip to Kyiv as leaders from his top alliances have on repeated occasions, including French President Emmanuel Macron, Polish President Andrzej Duda along with the U.K.'s former and current prime ministers Boris Johnson and Rishi Sunak. 
The Associated Press contributed to this report.