Tampa, Florida – The beloved Cuban sandwich is a delicious all-American culinary creation first served in Tampa, Florida, more than a century ago, according to proud local lore.
It's a savory, mouthwatering mix — often called a "mixto" — of three kinds of pork, paired with cheese, pickles and mustard, on fresh-baked local bread. 
It's flavored by an array of cultures that helped build Tampa into a jewel of the Gulf of Mexico. 
The sandwiches reportedly fueled the hard-working, and often Cuban-born, cigar factory workers in Tampa's historic neighborhood of Ybor City in decades past. 
PIRATES ROAM SEAS AND STREETS OF TAMPA, OFFERING FAMILY-FRINEDLY ENTERTAINMENT TODAY
Cuban sandwiches are now served in takeout shops, delis, pubs and restaurants from coast to coast.
"There is a debate over who invented it first, Tampa or Miami," Tampa food Instagram influencer Kiera Andrews (@thisbabeeats) told Fox News Digital. 
Others claim it originated in Havana or Key West. Cubans traditionally ate "mixto" sandwiches, but the version known today is in fact a Tampa creation, according to experts.
"I will tell you this," said Andrews. "I've had Cuban sandwiches in other cities. And there's nothing that compares to a Cuban sandwich in Tampa."
"There's nothing that compares to a Cuban sandwich in Tampa." – IG influencer Kiera Andrews
One of the secrets, she said, is the traditional Cuban bread baked at La Segunda Central Bakery, which opened in Ybor City in 1915. 
It supplies restaurants and retailers throughout the region. 
TERRIFIC TAMPA: 5 FAVORITE SPOTS FROM 'POLITICS FOR PATRIOTS' IG CELEBRITY ROGAN O'HANDLEY
Bakeries, restaurants — even the museum of longtime Ybor City cigar-maker J.C. Newman — sport murals and billboards highlighting the global inspirations that make Tampa's Cuban sandwiches a delicious example of America's unique culinary melting pot.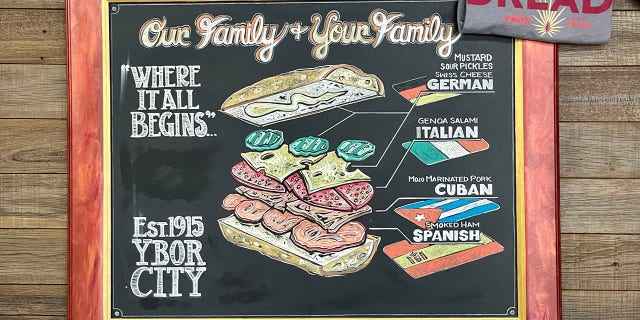 They boast Cuban pork, Spanish ham, Italian salami, German pickles and mustard and Swiss cheese — all cultures that had a historic presence together in Tampa — served on soft, airy Cuban bread.
"It represents all the different cultures that make Ybor City such a great place," said Casey Gonzmart Jr., the fourth-generation owner of Tampa dining landmark Columbia Restaurant.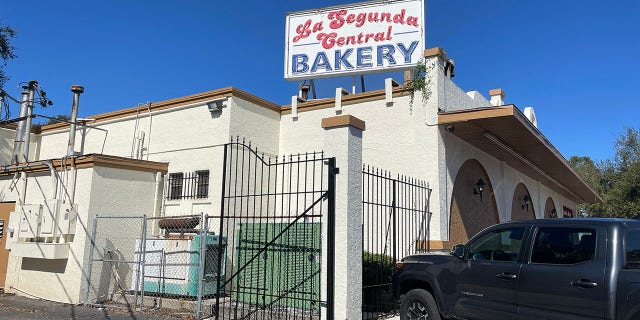 The eatery was founded by his Spanish-Cuban immigrant great-grandfather Casimiro Hernandez Sr. in 1905. 
Ybor City is best known for its Cuban-Spanish culture and cigar-making history. 
But it's also the traditional home of Tampa's Italian community. 
"The Cuban sandwich represents all the different cultures that make Ybor City such a great place." — Tampa restaurateur Casey Gonzmart Jr. 
The L'Unione Italiana, the Italian Club of Tampa, traces its roots to 1894 and sits just three blocks from Columbia Restaurant. 
"We can't tell the true history of the Ybor City without paying homage to the Italians," said Gonzmart.
Columbia Restaurant features colorful murals of the sailing ships of Christopher Columbus — the Italian mariner who ventured to the New World on behalf of the Spanish crown. 
Food & Wine Magazine named Columbia Restaurant's Original Cuban the best sandwich in Florida. It even credits Columbia Restaurant founder Hernandez Sr. for inventing the multicultural American delicacy.
DESANTIS SIGNS BILL REVOKING DISNEY'S SELF-GOVERNING POWER
"He hoped it would honor the contributions of the many immigrants who breathed life into the Ybor City neighborhood, where the restaurant was located, and the city of Tampa in general," Food & Wine wrote in its coronation of the Columbia Cuban.
The restaurant still makes its Cuban sandwich the same way it did at least since 1915, including using bread from nearby La Segunda Central Bakery, a company spokesman told Fox News Digital. 
Tampa Instagram foodie Andrews cites several other can't-miss Cuban sandwiches in Tampa. 
No-frills, cash-only West Sandwich Tampa Shop "feels like one of the first places that would have served the Cuban," she said. 
CLICK HERE TO SIGN UP FOR OUR LIFESTYLE NEWSLETTER
La Segunda, Tampa's landmark bakery, has a take-out sandwich shop at its original Ybor City location.
Here, guests can order original Cubans and various versions of the original, along with amazing traditional Cuban pastries and sweets.
MEET THE AMERICAN WHO INVENTED SLICED BREAD: OTTO ROHWEDDER, HARD-LUCK HAWKEYE
The Boozy Pig boasts a delicious Cuban breakfast sandwich served with eggs, while Wicked Oak Barbeque offers a "Que-ban" sandwich made with slow-smoked pulled pork and housemade mustard barbeque.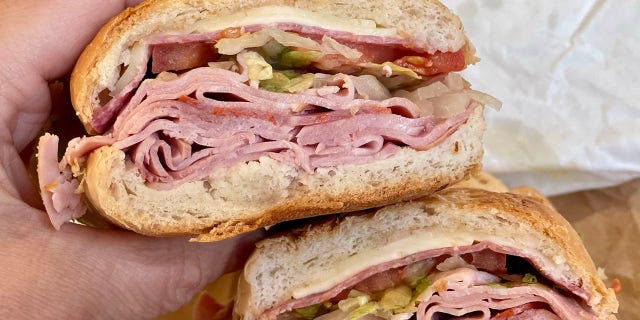 "Miami, for its part, added an innovation: the iron press, which gives the Cubano a thin look and crunchy feel that a lot of people now recognize it for," NPR wrote in 2022 in an interview with the authors of the book, "The Cuban Sandwich: A History In Layers."
Cuban sandwiches in Tampa traditionally come only on fresh bread — unpressed yet impressive in flavor and in American culinary lore. 
CLICK HERE TO GET THE FOX NEWS APP
The Tampa City Council named the Cuban the city's "signature sandwich" in a 2012 proclamation.