A family reunion turned into a family feud online for stars of the "Real Housewives of New Jersey." 
Joe Gorga, brother of Teresa Giudice (née Gorga), ran into his former brother-in-law Joe Giudice during a vacation in the Bahamas, where Giudice has been living.
Gorga shared video of their reunion on his Instagram, writing, "Both walked into the same bar at the same time. A lot of history there. We have memories since we were kids. I'm happy he's doing well and looks good. We were both happy to see each other and catch up. Glad someone caught it."
But Gorga's niece, Gia Giudice (daughter of Teresa and Joe), felt her uncle only shared the video for attention.
'REAL HOUSEWIVES' STAR TERESA GIUDICE 'CAN'T RELATE' TO JEN SHAH DESPITE BOTH BEING SENTENCED FOR FRAUD
"This is honestly comical knowing you were with him for not even 5 minutes and were able to have somebody take a video of the interaction meanwhile all you have done is talked so poorly about my father," she wrote in a comment.
She added, "You are such a[n] opportunist to take advantage of the once in a lifetime opportunity to see my father and use it for a post."
Gorga wrote back, telling Gia, "We both said horrible things about each other. It was a nice moment. We have a lot of history."
He concluded, urging her to, "Get the hate out of your heart."
CLICK HERE TO SIGN UP FOR THE ENTERTAINMENT NEWSLETTER
Gia's father was deported from the United States in 2019 to his native Italy after a 41-month prison sentence and additional time at an ICE facility, following his 2014 fraud conviction.
The 22-year-old told BravoTV.com last year that he's been "doing really well" after his deportation and "working with a construction company right now in the Bahamas."
CLICK HERE TO GET THE FOX NEWS APP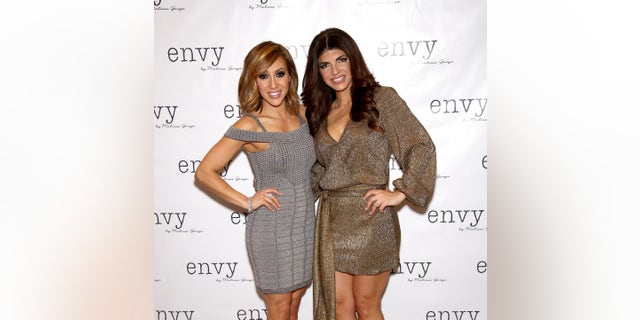 The Gorga and Giudice families have been at odds over the years, and tensions took a dramatic turn in August of last year when Teresa's brother Joe and wife Melissa skipped out on her wedding to Luis Ruelas.
There have also been hints that there is a major falling out between the two sides at the conclusion of Season 13 of the reality show, currently airing on Bravo.