The Salvation Army is helping out Ohioans after a recent catastrophic event.
The charitable organization, headquartered in Alexandria, Virginia, is conducting an on-the-ground relief operation after the train derailment in East Palestine, Ohio, on Feb. 3, when a Norfolk Southern freight ran off the tracks, releasing hazardous materials into the environment. 
Nearby residents were evacuated while workers burned the chemicals in an attempt to dispose of them, as Fox News Digital has been reporting.
BIDEN WHITE HOUSE UNCONCERNED OVER VISITING EAST PALESTINE: NOT 'SOMETHING WE'VE BEEN AGONIZING OVER'
The Salvation Army mobilized immediately.
It worked around the clock to provide support and assistance amid the chemical clean-up that has taken place, according to the organization. 
While The Salvation Army has brought in tangible resources, including over 15,000 cases of water, the group is also the only relief operation providing emotional and spiritual care on a large scale to that community, the group says. 
The organization has identified the needs of over 7,000 people in the area, Captain Angelica Spence, commanding corps officer at the Salvation Army in Salem, Ohio, told Fox News Digital.
The organization is providing the displaced residents — who are living in area shelters and hotels from West Virginia to Pennsylvania — with clothing and snacks, Spence also said.
OHIO TRAIN DERAILMENT: WHAT DR. MARC SIEGEL IS SEEING ON THE GROUND IN EAST PALESTINE
"We tried to do the best we could, checking to see if there was anyone with additional needs throughout the hotel stays," she said.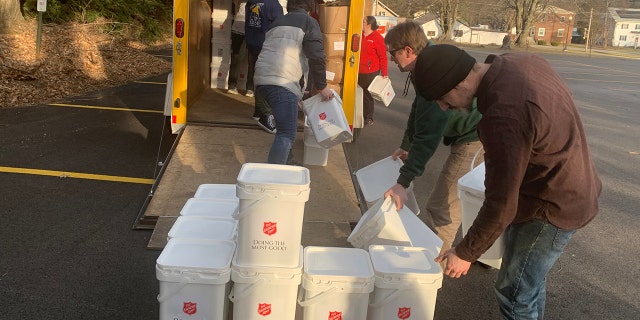 The Salvation Army's efforts progressed from there logistically, Spence said, providing transportation for residents on the day they were released from shelters.
"We're carrying their bags for them, walking them to the door, reassuring them that we're going to be here for the long run," she said.
"We're able to come in, listen to what they have to say and help them break some of [their frustrations] apart."
The organization realized that many residents returning home needed basic food supplies — so The Salvation Army provided the individuals with vouchers for local grocery stores, Spence noted.
NYC NONPROFIT HIGHLIGHTS LIFE-SAVING ROLE PETS PLAY IN OUR LIVES
Providing fresh drinking water was another immediate need for residents, since water contamination has been a major concern in East Palestine.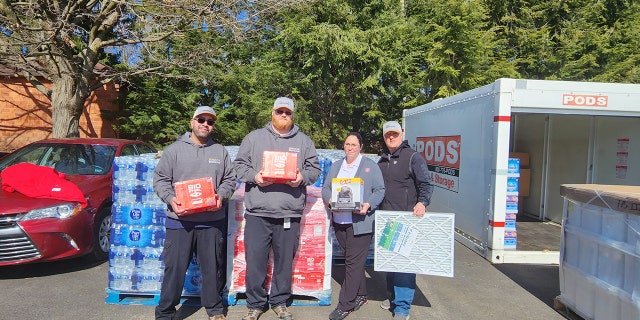 "We started getting water, we started [getting] cleaning supplies and … we've continued to [offer] emotional spiritual care," she said. 
"It's been a huge blessing" to those impacted. 
She added, "These people have gone through a lot, and we want to remind them that we're not going anywhere."
The Salvation Army has trained individuals who are actively helping community members through various mental health concerns by reminding them that "what they're going through it valid," Spence explained.
PENNSYLVANIA NONPROFIT IS DEDICATED TO HELPING PREGNANT WOMEN AVOID ABORTION'S 'HOPELESSNESS'
"No one is equipped to handle a train derailment, so we're able to come in, listen to what they have to say and help them break some of [their frustrations] apart," she said.
These trained individuals, including Salvation Army pastors and employees, have allowed residents to change their perspective and move forward in a "positive aspect," said Spence.
CLICK HERE TO SIGN UP FOR OUR LIFESTYLE NEWSLETTER
"We're coming along, providing hope for them to see that they're not left in the dark," she said.
Spence described the community as currently "very overwhelmed," but there's been an outpouring of support and willingness to help, she said.
Even though community members are "so grateful" for the help, there is still plenty of fear in the unknown, Spence said.
"One of the biggest blessings is there's so much support," she said. 
GOOD DEED: FLORIDA POLICE OFFICER RECEIVES 'LETTER OF COMMENDATION' FOR RESCUING A TRAPPED KITTEN
"And we're just one of those organizations who are able to come along in that community and provide that kind of relief."
CLICK HERE TO GET THE FOX NEWS APP
The future is still "unknown" for residents of East Palestine — and many people are still working through trauma and fear amid the experience, Spence said.
The Salvation Army accepts donations at salvationarmyusa.org or 1-800-SAL-ARMY.