Rita Curran, a 24-year-old Vermont elementary school teacher, was found strangled to death in her apartment in July 1971.
The Burlington Police Department (BPD) on Tuesday announced the identity of Curran's suspected killer as 31-year-old William DeRoos, more than five decades after Curran's death.
Shortly after the murder, DeRoos "moved to Thailand and became a Buddhist monk," BPD Chief Jon Murad said during a Tuesday press conference.
He died of morphine poisoning in San Francisco in 1986, when he was 46, about 15 years after murdering Curran, according to the police chief.
AUBURN UNIVERSITY STUDENT'S REMAINS ID'D NEARLY 50 YEARS AFTER HE DISAPPEARED BUT MYSTERY CONTINUES
DeRoos lived two floors above Curran with his wife, Michelle, who was several years younger than DeRoos, around Curran's age at the time of her death. They had only been married two weeks when they got into an argument and DeRoos left for a walk, during which time investigators believe he killed Curran.
GEORGIA AUTHORITIES FIND HUMAN REMAINS THAT MAY BELONG TO COLLEGE STUDENT MISSING FOR 45 YEARS
The initial incident report stated that the 24-year-old woman "put up a vicious struggle" with the suspect and "fought for her life," according to Murad. Her roommates found her body.
The next morning, police knocked on the couple's door asking if they had heard anything suspicious from the night before, and both DeRoos and his wife denied witnessing anything out of the ordinary. His wife later told investigators that DeRoos had convinced her to lie at the time, so they would not connect him to Curran's murder.
But a cigarette butt found at the scene allowed authorities to generate a DNA profile connected to DeRoos. 
Authorities discovered the un-crushed cigarette butt next to Curran's body in her apartment, Lt. Det. James Trieb said Tuesday.
'TEXAS KILLING FIELDS': CLYDE HEDRICK'S FRIEND SHARES NEW DETAILS IN EQUUSEARCH FOUNDER'S DAUGHTER'S COLD CASE
"That cigarette butt sat in evidence for over 40 years" until BPD Ret. Det. Jeffrey Beerworth sent it to the New York City Office of the Chief Medical Examiner for processing. Researchers discovered a single, male DNA strand on the cigarette, but it did not wield any results in the Combined DNA Index System (CODIS), according to Trieb.
More recently, BPD contacted Parabon Nanolabs Chief Genetic Genealogist CeCe Moore for additional assistance identifying the DNA strand, and it finally resulted in a match this year.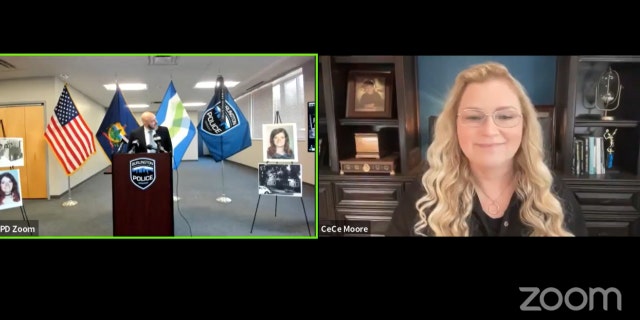 "This case is over 50 years old, and it only took a few hours to narrow it down to William DeRoos," Moore said during the press conference. 
DNA Labs International also tested Curran's housecoat years later and found traces DeRoos' DNA.
JONBENET RAMSEY COLD CASE: DNA EXPERT EXPLAINS HOW MYSTERY MIGHT BE SOLVED IN SHORT ORDER
DeRoos' marriage record from Burlington is dated July 21, 1971, which puts him near the scene of the murder around the time of Curran's death, Moore said Additionally, his address showed he lived in the same building as Curran during that time.
Curran's parents died awaiting justice for their daughter. Her siblings thanked BPD for the "compassion" they showed their family over five decades.
CLICK HERE TO GET THE FOX NEWS APP
"My mother came here from Ireland and my father from Newfoundland. We were an old-fashioned, strong, Catholic family. I don't think so much about the guy who did this as I do about Rita and my parents and what they went through. I pray to my parents, and I pray to Rita," Curran's brother, Tom, said during the press conference.
Tom said his sister hadn't lived on her own for more than two weeks before she was killed.